RCS will revolutionize Mobile Marketing. Add dynamic rich media, custom branding, suggested replies and actions. RCS will bring a new level of interactive and immersive experience to mobile marketing.
Rich Communication Services (RCS) messaging is the next evolution of SMS Marketing. RCS will offer group chat, high-resolution photo sharing, read receipts etc. The Rich Communication Suite (RCS) industry initiative was formed by a group of industry promoters in 2007.
So What's all the fuss about?
With RCS business messaging, you and your business can engage like never before with your customers and build meaningful experiences.
Bursting with Interactivity
Send images, video, google maps, QR Codes, call to action buttons, easy replies. Interact with your customers in real time in a fully immersive experience.
Track Everything
RCS Business Messaging not only provides read receipts but also interaction receipts. You can see who has clicked on a suggested action button on the message. Further enhancing your customer intelligence.
Easy to Use
Sendmode applications are always super easy to use. We put an enormous amount of time in creating applications that will save you time. Plus you will be backed up by our award-winning customer support. Check out these review "Customer Reviews

How RCS will help your business?
In this digital age, customers have come to expect services and brand engagement, and in a way that the customer prefers, whether that's SMS or RCS messaging.
RCS give brands the opportunity to interact with their customers instantly. This improved messaging will help businesses engage with their customers and build deeper relationships by providing an interactive platform previously only available for brands to reach their customers through mobile apps.
'RCS will upgrade today's business experience by enabling brands to send more useful and interactive messages. For example, a message from your airline reminding you to check in for a flight can now take advantage of rich media and interactivity to provide a full check-in experience, complete with a boarding pass, visual flight updates, and terminal maps on demand, all directly within the messaging experience. Businesses can also have a branded messaging experience with information about the business and the ability to share content.' – Google
RCS vs SMS
Expanded character set
Expanded message size
Expanded 'status reporting', with SMS you know your message is sent, RCS tells you your message is sent, delivered, read, and if the recipient is responding (similar to iMessage, Facebook Messenger, Whatsapp etc.)
RCS offers features that people expect from mobile messaging today, such as location sharing, group chats, high resolution photos. Below are two examples of what an RCS message can look like. Note the logo's, message section ( which can include maps, video's photo's) and even call to action buttons at the bottom of the message.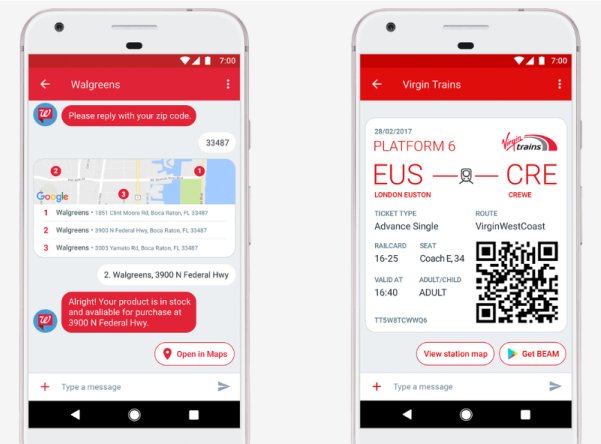 About Sendmode
Sendmode was started in 2008 by 2 computer programmers, Barry Murphy and John McNamara, who believed that business owners were being charged too much for ineffective marketing tools. Today the SMS platform they built sends over 10 million SMS per month on behalf of business owners worldwide. They are committed to keeping pricing at the lowest on the internet while building long lasting relationships with all our clients.

If you would like to try our SMS or RCS platform please click the image above, check out our extremely low prices and then sign up for a free, no obligation trial. Should you like the platform (and we hope you will 🙂 ) and decide to purchase an SMS Bundle, we are delighted that you have joined over 35,000 customers served by Sendmode.
Thank you for taking the time to read this post and we hope you found it helpful.
John