The General Data Protection Regulations (GDPR) specifies that you must show your customers what information you hold about them. These are called data access requests and can be submitted at any time to your company from customers, also known as data subjects for the purposes of GDPR. Sendmode has two new reports for Data Access Requests.
GDPR Report
This report is specifically designed for data access requests and allows you to search for a mobile number in your customer list will bring up their current status (opt-in or opted out), the last five messages send to that number and a log of when they opted in or out. The report can be exported and emailed directly to the customer. The screenshot below shows a GDPR report for a sample number.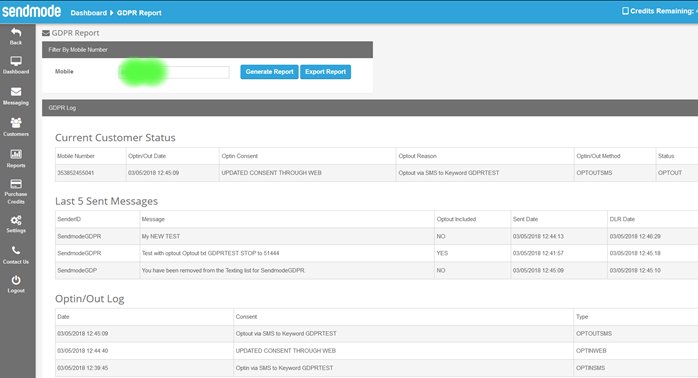 Marketing Consent Report
If you would like a bird's eye view of your current opted-in customer list you can do so in the Marketing Consent Report. The report can be filtered by Opt-In Type, There are 3 OptIn Types example, Opt-in Via Web, Opt-in via SMS or for API users, Opt-in via API.
Opt in Via Web. When you add new customers using the import function or by simply adding customers individually, they will be marked as Opt-In via Web.
Opt in via SMS. If one of your customers opts in by texting into a mobile keyword to join your list, they will be marked as Opt-in via SMS
For Developers only Opt-in via API. We have extended our API to include opt-ins and opt-outs and this is the subject of a separate blog available.
It can also be filtered by Consent given, for example, if you imported a batch of new mobiles with the tag 'Xmas Draw 2018', you can retrieve all these numbers using this report. You can also see which Consent method generated the highest number of opt-ins for your business.
Tip: An example of a GDPR compliant consent form for future in-store competitions can be downloaded here.
The screenshot below illustrates the report and filtering on Opt-In Type and Consent.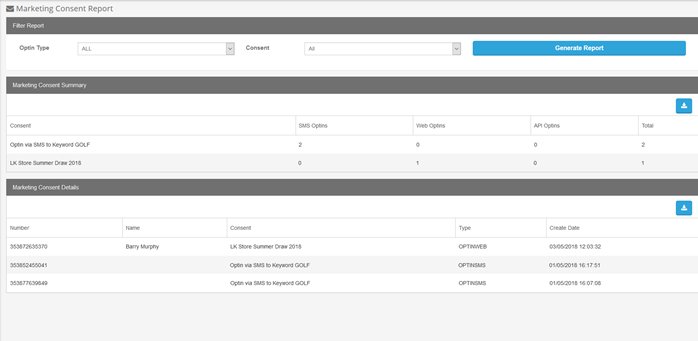 Sendmode has been in the mobile marketing industry for almost 10 years and serves over 30,000 customers worldwide. We are fully committed to keeping our customers GDPR compliant and provide a number of easy to use features such as the subject of this blog – GDPR Reports – across our platform. If you are using another Bulk SMS provider and are not satisfied with how they will keep you GDPR compliant, why not register for a no-obligation free trial by clicking the image below, check out our super low prices and then click 'Try for Free'

Thank you for your time, we hope you found this blog useful.
John