Welcome to Sendmode's award winning Bulk Text Messaging service.
Bulk SMS
Our Bulk SMS offering guarantees the best value and easiest to use solution on the market. Our routes and direct connections to operators are of the highest quality. We Never comprise quality for cost.
In the Sendmode account you have a whole suite of tools to help you create highly effective SMS campaigns such as Sender Ids, Groups, Templates, Scheduling, Uploads, Repliable numbers and Reports.
SMS Gateway
We offer an SMS Gateway service to SMS enable any application in minutes. Developers can integrate with our powerful but easy to use API, and connect directly to Sendmode's award winning infrastructure.
Support from our development team plus on-line documentation with code examples (C#, ASP, PHP, Java) is available to help you get up an running. Find out more information on the SMS Gateway page.
Mobile Websites
A mobile website is a version of your website optimized for mobile phone screens. Studies have shown that companies with mobile websites experience an 18% jump in revenue so we decided to create a mobile websites solution for our customers. It's an easy to use, DIY mobile website creator and you'll have a mobile website in about 15 minutes. Check it out on our mobile websites page.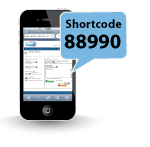 SMS Shortcodes
A shortcode is a 5 digit number which you may have seen in TV reality shows, for example text MUSIC to 88990 to vote. It is an excellent way to increase your OPT-IN customer list.  Sendmode also includes software Free in your account to run 2-Way SMS Competitions, Straw Polls, and Ordering.  For more please check out our Shortcodes page.
HLR Lookup
HLR Lookup or database cleaning, is a service which provides businesses with a report on all their customers mobiles, which mobile network they are on, which numbers are ported and which are no longer in use. Removing any numbers which are deemed inactive from your database will generate direct cost savings. Please check out our database-cleaning page for more information.
Email to SMS
This is a really popular service that is included at no extra cost with every Sendmode account. Email2SMS enables users to send SMS messages  directly from within their email application. This becomes a really useful feature for communicating with staff who may be out of office throughout the day. It allows for one email to be sent to a single mobile, multiple mobiles, or both email and mobile numbers.    Get more information on the Email2SMS page.
Support
At Sendmode we pride ourselves on the quality of Support  we deliver to both our new and existing customers.
During core office hours (9-5:30 pm) you can call the team directly in the office and we will assist on the phone with any questions, ideas, support, help or queries you may have. No matter how technical/non-technical you are, we will solve your support request and  get you going again.
Outside of these core hours our IT support team are available 24/7 via the contact support request. If you are having technical issues and need support the team will get your alert and work to resolve the issue immediately.
Reports
The IT team at Sendmode just love statistics and have designed the system to log all activity to ensure full audit and reporting capability.
For our customers this means a suite of live reports available in your account which show you clearly the performance of your SMS campaigns, number of Opt-in/Opt-out numbers, Invoice and Purchase history, Shortcode competition responses.
All these reports are generated from live data and are fully transparent, which highlights the performance quality of our system.
Double Credits Offer
Switch to Sendmode SMS Marketing this month to get Double Credits.
Ex. Buy 5,000 Get 5,000 Free !!
We also provide a switching service where we will load your SendMode account with your numbers and groups with your current provider.
Our Service
No Setup Fee
No Contract
25 FREE credits
Pay as you Go
Free Marketing tips
Award Winning Service
Sign-up
Sign up for a trial with 25 free credits below:
Our Pricing
We wont be beaten on price!!
Check out our Bulk Text Pricing
Why Choose Us?
We operate in a very competitive industry and many companies offer products that look similar to those of SendMode. Many companies make strong claims. And yet, thousands of companies select SendMode for their Mobile Marketing needs. Discover the "SendMode Difference" and see what we believe sets us apart from others.
Not Sure Yet?
Check out what our customers say in our testimonials