Up until now companies would be using Repliable for their 2 way messaging requirements. Companies would send out their SMS and any relies are then forwarded to their email inboxes. Sendmode have a new improved way to do this. It is called RCS Links.
If you are wondering what RCS is? It will revolutionize Mobile Marketing. Add dynamic rich media, custom branding, suggested replies and actions. RCS will bring a new level of interactive and immersive experience to mobile marketing. See below for an example of an RCS Links Message asking customers if they will be available to work today. This would traditionally have been done using repliable but can be done much more efficiently by RCS Links.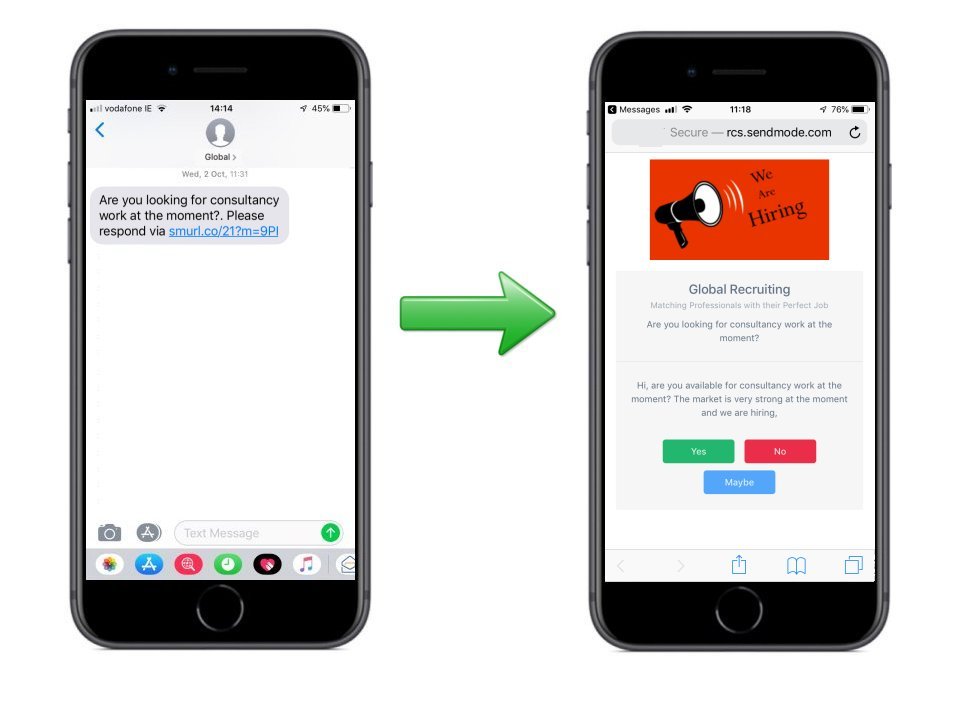 There are a number of advantages to using RCS links for 2 way messaging.
Branding Repliable Messages
You can use Sender Name functionality to brand your SMS. The message will arrive at your customer's handset with your company name, rather than a mobile number.
When a customer clicks the link they will see your campaign branding as per the phone on the right hand side in the image above.
Absolutely FREE to customer to reply
Currently customers are charged the cost of an SMS to reply. The cost will depend on the phone contract or package they are on. With RCS Links there is NO COST as it uses the internet rather than the mobile networks.
Track Everything
The administrator can see in real time a report from all replies in real time. See below for an example of the text that the campagign admin will get plus the real time report they can follow using their phone. They can also follow replies via the web portal..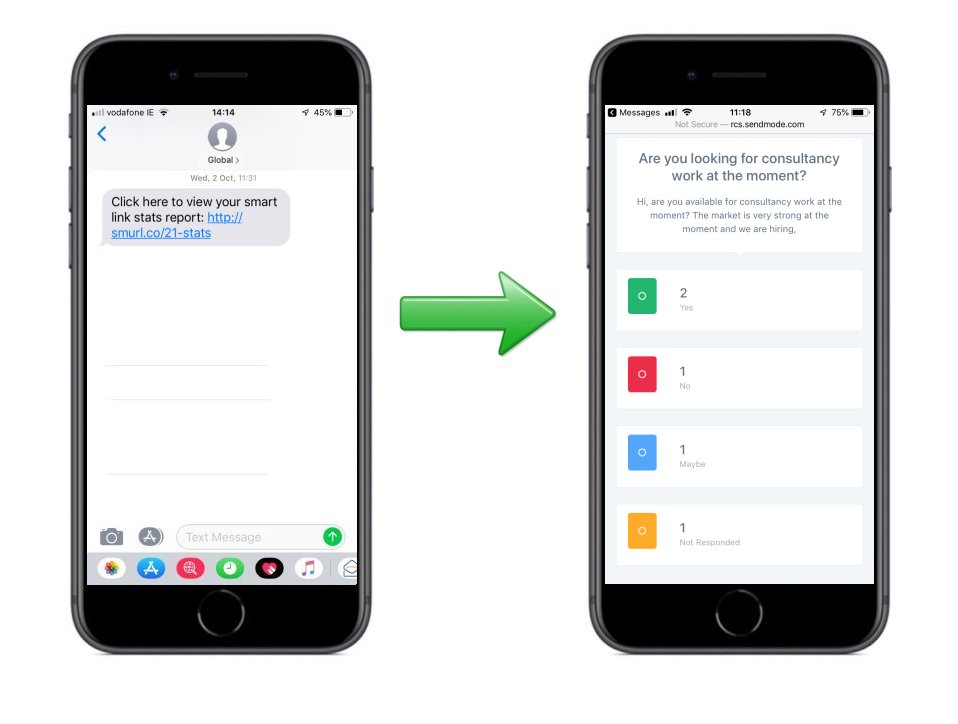 This is free for all customers. As you can see from the report, the administrator can see exactly who has (or has not) replied to your communications.
No Extra Cost – Same Price as SMS
As RCS, WhatsApp and Facebook Business Messenger come on stream, some companies may charge more for these services. NOT SENDMODE. There is no extra cost for these services with Sendmode. We are currently the only provider offering this service in Ireland.
Available on all Networks and Smart Phones
What we have developed is network independent and works on all smartphones. There is no need for your customers to download anything. It works automatically on all phones.
About Sendmode
Sendmode was started in 2008 by 2 computer programmers, Barry Murphy and John McNamara, who believed that business owners were being charged too much for ineffective marketing tools. Today the SMS platform they built sends over 10 million SMS per month on behalf of business owners worldwide. They are committed to keeping pricing at the lowest on the internet while building long lasting relationships with all our clients.

If you would like to try our SMS or RCS platform please click the link above the platform (and we hope you will 🙂 ) and decide to purchase an SMS Bundle, we are delighted that you have joined over 35,000 customers served by Sendmode.
Thank you for taking the time to read this post and we hope you found it helpful.
John