What is MMS Marketing?
MMS stands for Multimedia Messaging Service and allow us to send images, videos and other multimedia content over the wireless networks. Multimedia messaging offers your customers a more immersive experience than a simple text message with the addition of images and videos to your marketing campaigns.
However the cost of MMS is quite expensive so we have been looking at ways of merging the benefits of MMS messaging with the low cost simplicity of SMS.
What we have come up with is an easy to use system which will increase customer engagement with your marketing campaigns. Basically you embed a link to your multimedia content in your SMS. When you customers receive the SMS, they can click the link and it will bring you to your video content or image of your latest offer, brochure etc.
There are 5 simple steps as illustrated in the image below.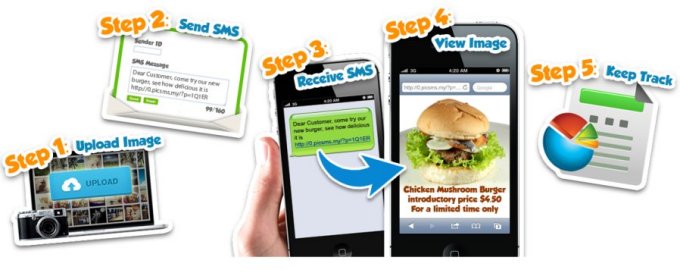 Step 1. Upload your image
When you upload your image you will be given a shortened URL to embed in your SMS.
Step 2. Send SMS
Write your SMS, add the link you have been given in Step 1 and send the SMS campaign.
Step 3. Customers Receive the SMS
Your customers receive your SMS campaign (90% will open it within 90 seconds of receipt) and can click the link to bring them to your multimedia content.
Step 4. Customers Taps the Link
Customers view the image or video you have uploaded. According to a blog published recently by Tatango, some brands in the US show 300% more engagement with MMS messages than text only SMS messages.
Step 5. Track the Clicks
You can track how many people have clicked and visited your multimedia content in a number of ways such as google analytics. We will show you how to do this.
Why not consider using our MMS solution for your next marketing campaign?
We hope you found the above information helpful and thank you for taking the time to visit our blog. We are available 24/7 for any of your marketing needs, especially in the areas of mobile and SMS Marketing. If you need any advice on how to use our service for your MMS or SMS marketing campaigns please contact us by email, phone or online chat at any time.
Thanks,
John