New research has found that consumers are increasingly heading in-store to purchase items after researching these items online. This is known as webrooming and the results from a number of research projects indicate that is gaining popularity.
For a number of years, bricks and mortar retail has been fearful of the online shopping and especially what was known as showrooming, where consumers will check out products in their stores but go home and purchase them online.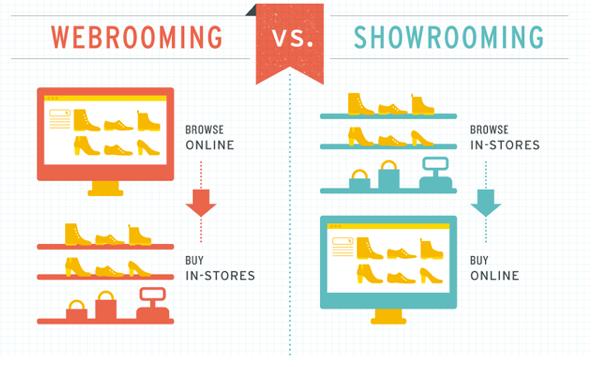 Recently however, the opposite trend is emerging, that of webroooming.
The "retail experience" is increasingly becoming more important for consumers – being able to touch, feel the quality and try on a product before purchasing. Nearly 75 percent of survey respondents said they will visit a store to buy an item they've researched online because they don't want to pay for shipping or don't want to wait for delivery, and 37 percent said they liked the option of returning the item in-store, rather than having to ship it back.
In fact according to neilsen, 60% of shoppers say they check out products online and then head down to the local store to purchase.
The Nielsen study, which polled 30,000 consumers in 60 countries, supports a similar conclusion by research conducted by Accenture, which found that 73% of shoppers engaged in showrooming while 88% used webrooming as a shopping strategy.
Following on from these reports a Merchant Warehouse report which broke down showrooming and webrooming by age and found that webrooming is more popular than showrooming for all age groups.

These results are a welcome boost for retail and maybe all is not lost for bricks and mortar just yet and the cycle of consumer behaviour is moving back towards a retail experience and a great instore service.
If you would like to know how Bulk SMS can help your marketing please visit www.sendmode.co.uk/bulk-sms.
Thanks for taking the time to read this blog.
John