If you are using email marketing this infographic may be of interest to you, it is a comparison between SMS vs Email marketing.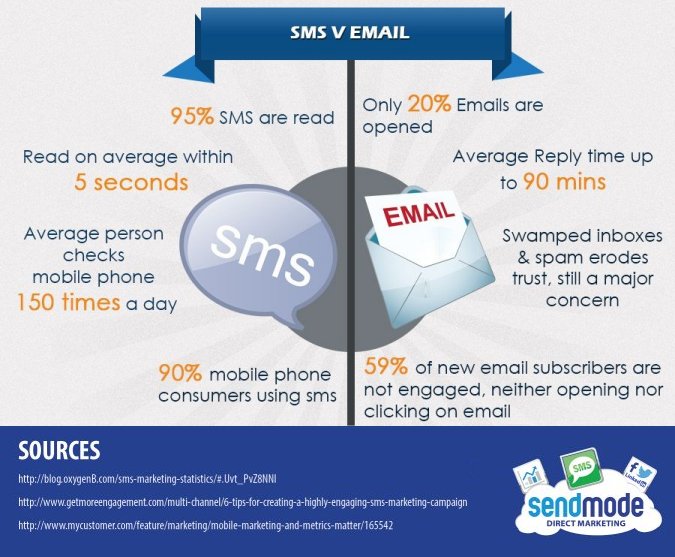 While email marketing is very popular it does lag behind SMS in terms of open rates and response rates. We are all flooded with emails each day and it can be tiresome going through all the SPAM, your customers are in the same boat.
They are trawling through hundreds of irrelevant emails too.
There is a however quicker, easier and more effective way to reach your customers. When used correctly SMS Marketing is the single most effective way to reach your customers. The term "used correctly" is important however as you will need to send messages at appropriate times (between 11 a.m. and 8 p.m.) and without too much frequency. Do not bombard your customers, we recommend one offer per month to get the most optimal sustained response rate.
With over 7 years' experience in the SMS Marketing business and more than 20,000 happy customers from all kinds of business sectors, Sendmode will work with your business needs to provide an SMS Marketing service which will drive sales and increase customer engagement. Click on the link below for a no obligation free trial.

If you would like to know more about how our bulk sms platform can enhance your sms marketing please visit www.sendmode.co.uk/bulk-sms.
I hope you found this helpful and thank you for taking the time to read our blog.
Thanks,
John