A text message has many uses for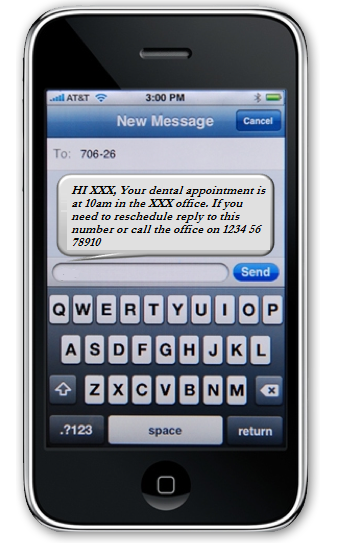 communicating with clients or customers whom use appointment systems for example:
– Confirmations of appointments.
– Appointment Reminders via text message direct to the user's mobile phone.
– Rescheduling cancellations by text message.
– Membership renewals for clubs, associations, gyms etc…
– Also they can utilise the system to send out 1. Informational messages, 2. Course/gym Deals or offers by text message and 3. Service updates.
To substantiate the benefits of text message reminders, there was an article on the Sleaford Standard website which explained how Text messaging reduced the number of missed appointments within the Lincolnshire Partnership NHS Foundation Trust since July 2011. They benefited from reduced missed appointments, saving £160 on average per missed appointment; In turn reducing waiting times and enabling the reallocation of cancelled appointments through text messaging.
So how can Text messaging appointment reminders help your business?
• Reduced missed appointments
• Reduced waiting periods / numbers on your waiting list
• Immediate cancellation reallocation by text message
• Save money by utilising text message for booking and reallocating appointments by:
Using text message (from 2.7p) rather than by post (46p -1st class UK) per message or notification,
Save on administration costs for missed appointments, as appointment reallocation is easier via text message.
• Take cancellations by text message using Sendmode's shortcode facility 51444.
• Gather customer / client numbers to send out information hours such as visiting hours in a hospital, hospital closures, dental practice opening hours, gym / course class's times or changes, etc…
• And many more ….
Now you know how valuable text message reminders can be – why not call Sendmode today on 02034114464 or e-mail support@sendmode.com to get your text messaging account. Alternatively click on the link below.