Your all probably wondering if there is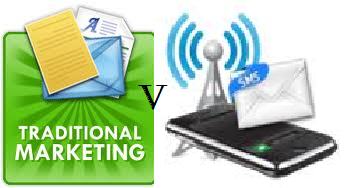 any benefit to using SMS Marketing, well here are some pro's and cons of SMS Marketing compared with Mail flyers.
SMS PRO's
1. Cheap Marketing tool at 2-3 cent per SMS.
2. 100% delivery guarantee.
3. On average 94% of text messages are read immediately with 80% of consumers keep their mobile with them all day.
4. Up to 20% response rate compared with 3 % by using traditional marketing tools (marketingzoneafrica.com).
5. Text messaging has been estimated to be 10 times more effective than newspaper advertising and 5 times more effective than direct mail (marketingzoneafrica.com).
6. Permission based marketing as your customer signed up to be messaged.
7. Personalized communication with customers about offers etc…
8. Ease and flexibility of usage.
9. Build your database of customers using keywords.
10. Target different groups of customers with different offers.
11. Use as a loyalty scheme.
12. Send notifications – e.g thank you for paying your bill / Happy Birthday get 10% off with this SMS / Your bill has being printed available at www.bill.com.
13. Utilising state of the art technology.
14. Stores your SMS information .securely – enabling a review of the data sent and received back (if the keyword facility is set up).
SMS CON's
1. Need telephone or a mobile phone to ring in your messages.
2. Need your customers mobile numbers.
3. Afraid of using technology.
Post / Stamp / Mail Flyers PRO's
1. Already have customers addresses.
2. Full Colour – reinforces the company brand using the logo.
3. We have always use post for sending out information to our customers.
Post / Stamp / Mail Flyers CON's
1. Considered Junk mail.
2. Rarely read.
3. Expensive.
4. Lack of 2 way communication with customers.
5. Devalues the company brand as customers do not request junk mail like advertising.
6. Annoys customers and potential customers.
Hope this helps,
Christina