So you're using the Sendmode social media management application, you've seen your social score and now you want to take advantage of our tips to improve your engagement.  If you need some clarification on what we've advised, you're in the right place.  Below we've gone into more detail on each of the tips we offered you within the social media management application.
Post more frequently
Perhaps you haven't had time to post as often as you'd like.  We would recommend that you aim to post at least once a week on Facebook.  Try to allocate some of your time for coming up with relevant content and then use our scheduler.   The scheduler allows you to input each of your posts and decide what date and time you want the post to appear on the social media network. This means you can schedule all your posts at once and not have to worry about it again.
The frequency of your activity on Facebook will largely depend on what kind of business you are running, how often your customers want to hear from you and whether or not you have interesting things to tell them.  Be careful not to bombard customers with too many posts, if they aren't relevant they may 'unlike' your page.  Conversely, if they've liked your page, that means they are interested in your business, so make sure you give them something to read.  You know your customers better than anyone, so you should have an idea about how often they want you to post on Facebook, and if you're not sure, just ask them, it is a 'social' network after all.
Take advantage of our suggested optimal time to post content for further engagement
Up until now you may have been posting on Facebook as and when you have had some spare time.  But that might not be the same time that customers are online.  Your optimal post time has been calculated by evaluating when your fans are most likely to be on Facebook.  We've had a look at what times your fans have been online recently and based on our analysis we have recommended when you should be posting on Facebook.  The optimal post time is a guide which should help your growth and activity.  If the post time suggests 16.00hrs, you should try to schedule all your Facebook activity for around 4pm to maximise the amount of people that will see your content.  The more you post around our suggested optimal time, the higher your posts within optimal time percentage will be.
Ensure your content is relevant / Consider what your customers want to hear from you
What you post on Facebook will ultimately dictate how successful your page is.  It's a simple given that your customers will not engage with you unless they are interested in what you have to say.  Like we've already said, you know your customers better than anyone, so you should have a rough idea what they might like to hear from you.  This can often be the most time consuming aspect of social media, so make sure you set apart some time to allow yourself to think about what to post.  You may have read an interesting article about your industry, why not share it?  You have a special offer running next week, so tell them about that.  You hired a new employee, take a photo of him/her and post that welcoming them to the team.  You've updated your blog, why not share the link. Did your local paper do a feature on your business, take a high quality photo of it and post that.  There are lots of things you could do, just make sure they are relevant to your business and your customers will begin to engage with you.
Try using more images, links or videos
Adding a status to Facebook is great, but why not make them more interesting by using photos, videos or links.  Customers love photos and videos, they help to bring your post alive.  Your engagement score is more likely to increase if customers are clicking on images, links or videos too.
There are lots of images online you can use; just do a simple Google search. Or take photos of your own products and add an album for all your different product ranges. You can make your own videos too. Share links to your website or to interesting articles you have read online that you think your customers will want to know about.
Keep your posts short
It is advised that your posts are somewhere in-between 80-250 characters for Facebook.  Try to get the message across as succinctly as possible, otherwise your customers will quickly get bored and scroll further down their news feed.
Ask your customers to tick the 'Show in News Feed' notification setting
Facebook decide what your customers see in their news feed based on several factors to determine the top stories; who posted the story and what type of post it is.  Sometimes your business may not be important enough to appear in their news feed, this all comes down to the Facebook algorithm.  If you ask your customers to tick the 'show in news feed' notification setting they will be more likely to see all your posts. They should go to your Facebook page first and then the image below shows them how to do it.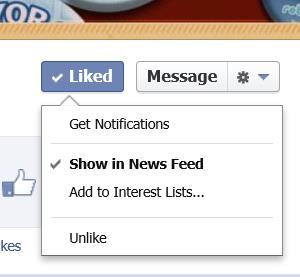 Vary your content types
Try to vary the types of content you post on Facebook and work out which work best for your business.  For example post statuses, photos, videos, links, competitions, ask questions, ask to share.  It won't take you very long to work out what type of content your customers want to engage with.
Include a Call to Action in your posts
A call to action is some kind of prompt that will encourage your customer to engage with you. 'Click here' 'Visit our website' 'Share this photo' 'Tell us what you think about…'.  You must be precise in telling your customers exactly what you want them to do.  Including a call to action often improves engagement.
Respond to your customer's feedback as soon as possible
If your customers have posted something on your page or sent you a direct message, you need to respond as soon as possible.  You should always respond to them in the same way they contacted you – this is obviously the way they feel comfortable exchanging communications with you.
Good luck with these tips!  Feel free to contact us with any questions.