So you're using the Sendmode social media management application, you've seen your social score and now you want to take advantage of our tips to improve your activity.  If you need some clarification on what we've advised, you're in the right place.  Below we've gone into more detail on each of the tips we offered you within the social media management application.
Post more frequently
Perhaps you haven't had time to post as often as you'd like.  We would recommend that you aim to post aFat least once a week on Facebook.  Try to allocate some of your time for coming up with relevant content and then use our scheduler.   The scheduler allows you to input each of your posts and decide what date and time you want the post to appear on the social media network. This means you can schedule all your posts at once and not have to worry about it again.
The frequency of your activity on Facebook will largely depend on what kind of business you are running, how often your customers want to hear from you and whether or not you have interesting things to tell them.  Be careful not to bombard customers with too many posts, if they aren't relevant they may 'unlike' your page.  Conversely, if they've liked your page, that means they are interested in your business, so make sure you give them something to read.  You know your customers better than anyone, so you should have an idea about how often they want you to post on Facebook, and if you're not sure, just ask them, it is a 'social' network after all.
Take advantage of our suggested optimal time to post content for further growth
Up until now you may have been posting on Facebook as and when you have had some spare.  But that might not be the same time that customers are online.  Your optimal post time has been calculated by evaluating when your fans are most likely to be on Facebook.  We've had a look at what times your fans have been online recently and based on our analysis we have recommended when you should be posting on Facebook.  The optimal post time is a guide which should help your growth and activity.  If the post time suggests 16.00hrs, you should try to schedule all your Facebook activity for around 4pm to maximise the amount of people that will see your content.  The more you post around our suggested optimal time, the higher your posts within optimal time percentage will be.
Ask your customers to tick the 'Show in News Feed' notification setting
Facebook decide what your customers see in their news feed based on several factors to determine the top stories; who posted the story and what type of post it is.  Sometimes your business may not be important enough to appear in their news feed, this all comes down to the Facebook algorithm.  If you ask your customers to tick the 'show in news feed' notification setting they will be more likely to see all your posts. They should go to your Facebook page first and then the image below shows them how to do it.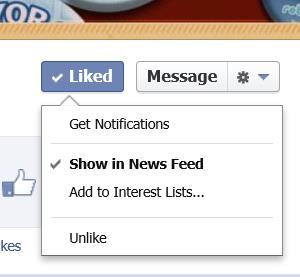 Good luck with these tips!  Feel free to contact us with any questions about social media or Bulk SMS.