At Sendmode, we know how effective SMS Marketing is for business but even we were surprised when we saw how popular it is in this recent survey by Message Systems. The survey of enterprise business employees at the director level or higher, were what channels they will use for their mobile messaging in the coming year.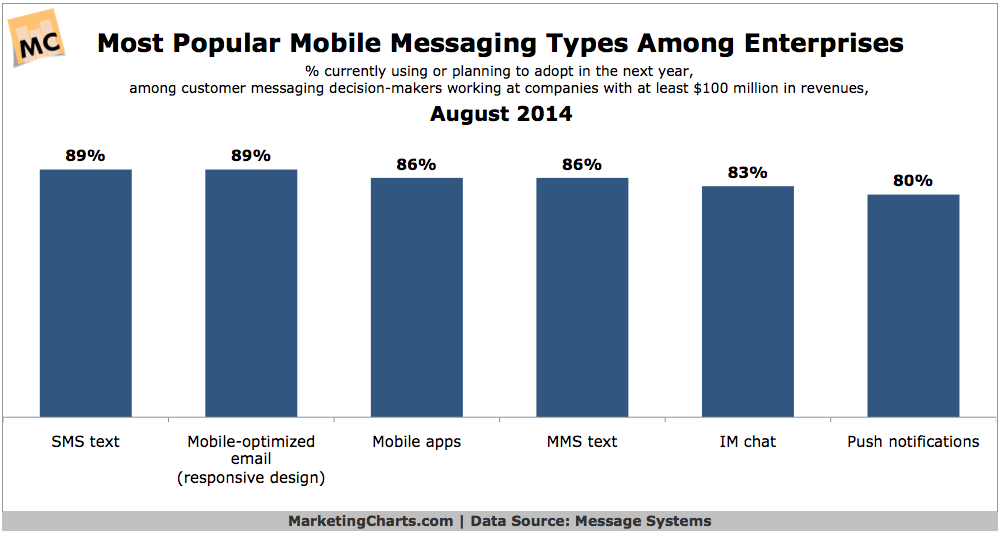 89% said they are currently using SMS marketing, or planning to adopt SMS marketing in the next year. Email is also 89% which is not a surprise as we use so much it everyday in business communications but even with the proliferation of mobile apps, SMS is still seen as the most reliable communication channel at enterprise level.
Over the past year we have noticed more and more SME's using SMS Marketing as marketing campaigns can be created and implemented in minutes and with 98% of SMS messages read within 3 minutes of receipt, the message is always delivered directly to your customers. Our customers are delighted with the results of SMS Marketing campaigns as the return on investment is both quantifiable ( "I got your text message offer" ) and higher than any other form of marketing channel.
We've been in the SMS business for 7 years now and if you would like to try it for your business, drop me an email at any time ( johnmcnamara@sendmode.com ) and you'll be up and running in no time. We'll sponsor your first campaign to 100 customers and you can see the results for yourself.

I hope you found this helpful in any way and thank you for taking the time to read our blog. We love the feedback we receive from everyone and it is our customers who drive the innovation in our SMS Marketing service. Keep the feedback coming and we'll add to our development list and make our service more and more valuable to you and your business.
Thanks,
John