Seventy-nine percent of marketers agree that mobile marketing — including SMS, push notifications, mobile apps, or location based functionality — is core to their business. Based on the results of a recent survey, SMS Marketing is the preferred one by consumers.

US Mobile marketing company 3Cinteractive surveyed 3,500 internet users and 250 US brand marketers and asked their preference for receiving marketing communications. SMS was clearly the largest preference in how internet users want to receive communications from brands. In fact, more than twice as many internet users preferred SMS as email, and the same went for app notifications. See the image below for details.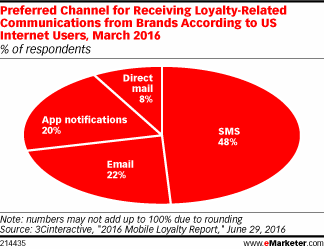 Nearly half of US internet users said they prefer receiving loyalty-related messages via SMS, March 2016 research found, however less than 25% of US brand marketers use SMS for their loyalty program, that same study revealed.
By not using SMS as part of your marketing strategy it is literally leaving money on the table. 98% of SMS messages are read and 90% are read within 3 minutes of receipt. When you send an SMS marketing message to your customers, you can be guaranteed that it will be read by your customers.
Furthermore, the response rate from sms marketing is 12% across all industries but is much higher in industries such as the fast moving consumer goods sector, far exceeding that of email, social, print and broadcast.
With over 7 years' experience in the sms marketing business and more than 20,000 happy customers from all kinds of business sectors, we would love nothing more than to show you how bulk sms marketing can benefit your business, drive sales and increase customer engagement. Click on the link below for a no obligation free trial.

I hope you found this helpful and thank you for taking the time to read our blog.
Thanks,
John